Stuart at 'The Great Gathering'
Saturday, 9 November 2013
Stuart recently spent a day at the National Railway Museum at York during 'The Great Gathering' celebrations - The 75th Anniversary of The World Speed Record for Steam which is held by the A4 pacific 'Mallard'.
Stuart was signing prints for the 'Sir Nigel Gresley Locomotive Trust' to help raise money to keep this historic locomotive in steam and on the main line. It was a very successful day and Stuart was signing almost continuously for 6 hours!
Stuart's 'World Speed Record' prints and mugs have been extremely popular and he would like to thank everyone who has complimented them.
The 'Sir Nigel Gresley Locomotive Trust' also asked Stuart to attend the 'Great Goodbye' event at Shildon Railway Museum where he found himself equally busy signing prints on Monday 17th February.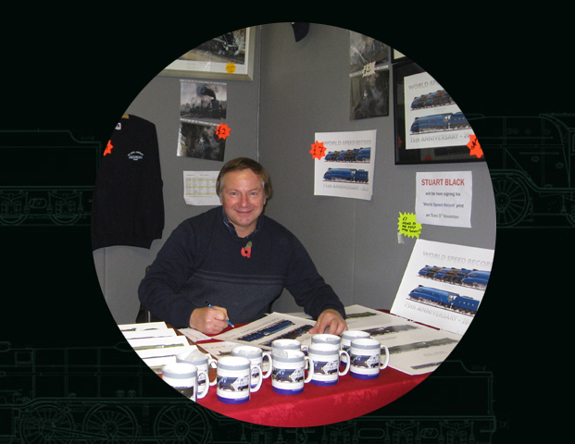 Stuart signing one of his prints at The National Railway Museum on 5th November 2013