Commissions
Some examples from recent commissions are shown below.
Commissions are welcome from both private and business customers. Please give as much notice as possible in order to give sufficient time for the research and artwork to be completed. Commissions for profile artwork on most British locomotive and aircraft subjects can be undertaken at very reasonable prices. Transfer of Copyright can also be arranged for a small fee.

Most of the prints that are available can be modified to show a different locomotive of the same class wearing the same livery by a simple number and name change. A small additional charge will apply for the modification.
Personalised text can also be added for the presentation of a print to an individual. Costs vary depending on the amount of change required to the print but are generally in the region of £25-£50. A framing service is also provided (the style of frame is similar to that shown on the 'Prints' page) for an additional £25. An examples of a personalised print is shown below.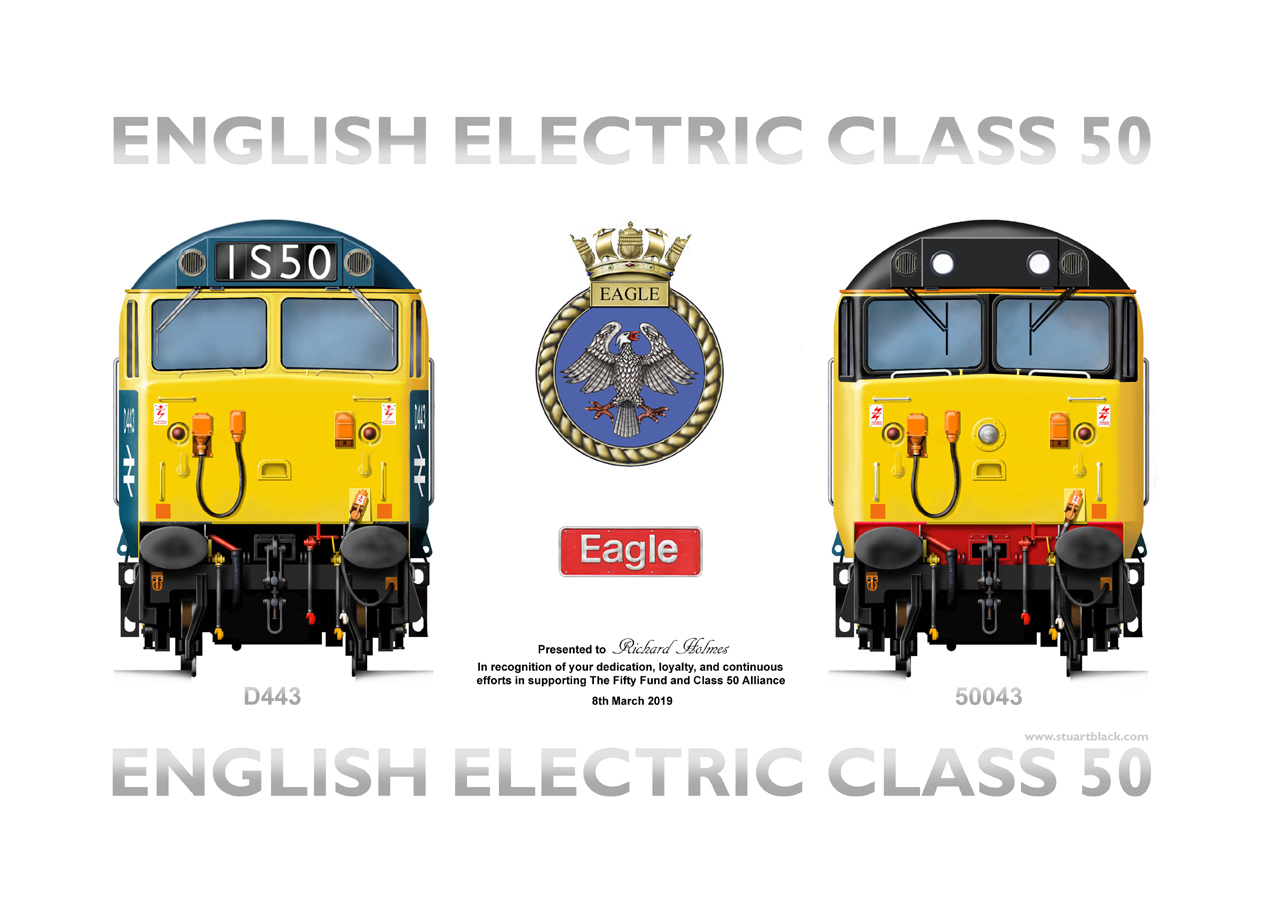 Please enquire through the 'contact' page to discuss your requirements.

'Fury'

The artwork above shows the experimental steam locomotive 'Fury'. This painting was commissioned by a private customer in Cheshire and is one of four in a private collection. Few photographs exist of the locomotive, and none are in colour, so it provided a challenge!

(Artwork dimensions 630mms x 260mms)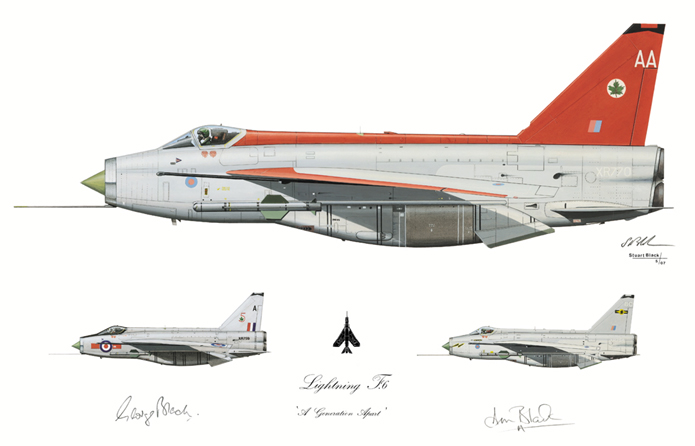 'A Generation Apart'

This painting was commissioned by Dave Mackay - a Lightning fan who lives in the Netherlands! It shows Lightning F6 XR770 - one the last of the type to remain in operational service, flanked by Lightnings flown by Stuart's father, George Black, and his brother, Ian Black.
(Artwork dimensions 570mms x 380mms)

In 2010, the Royal Mail commissioned Stuart to provide the artwork for a presentation pack displaying their 'Great British Steam Locomotive' stamps. In addition, he provided a number of other locomotive illustrations that were featured in a limited addition collector's portfolio.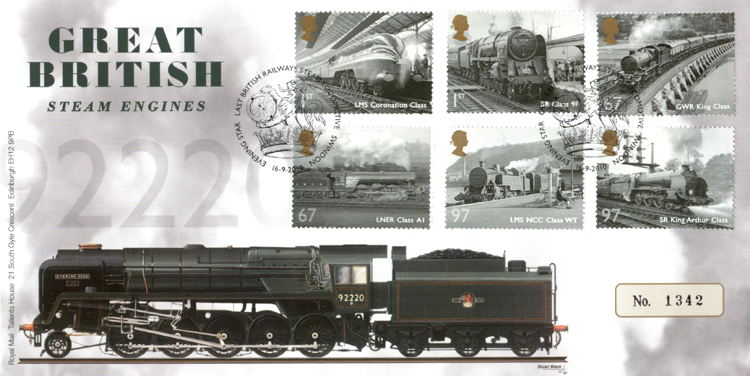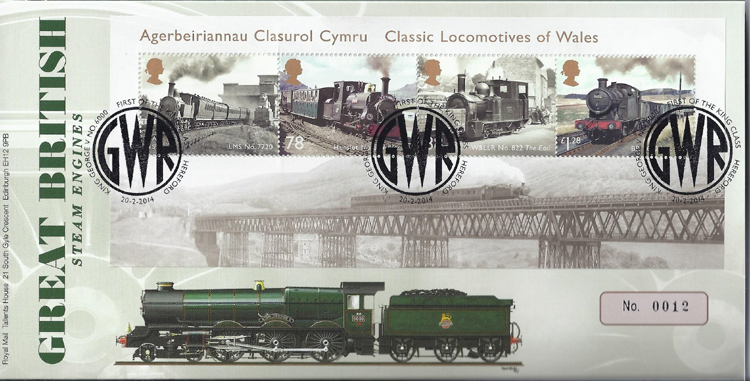 Royal Mail Presentation Packs
Whilst profile illustrations are Stuart Black's mainstay, he has undertaken other forms of precision artwork.

Collages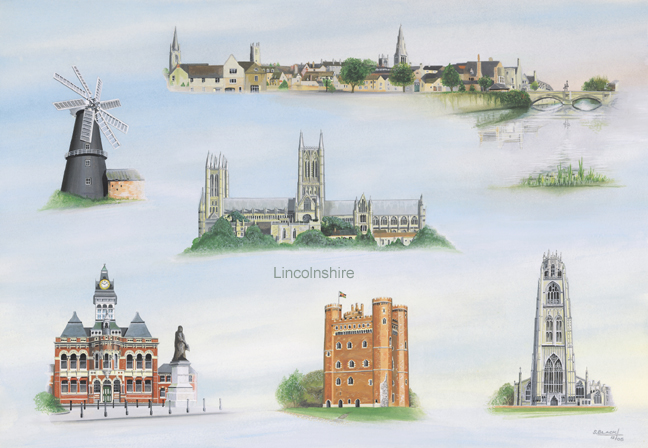 'Lincolnshire Collage' was a personal endeavour and shows famous landmarks in Stuart's home county.
(Artwork dimensions 570mms x 380mms)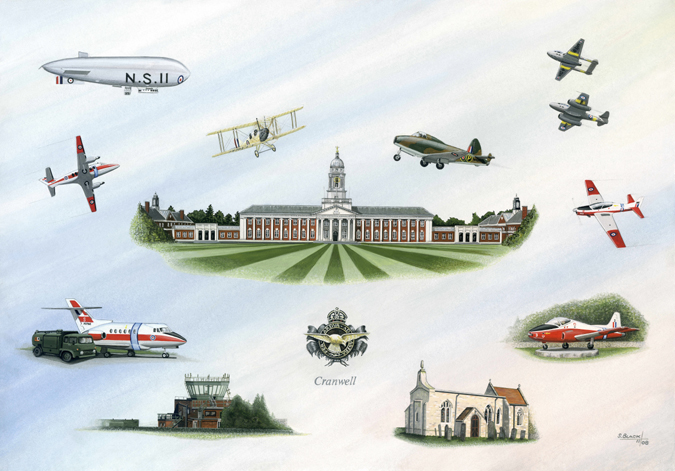 'Cranwell Collage' was commissioned by a private customer in 2008 and shows a pictorial history of aviation at the Royal Air Force College Cranwell.

(Artwork dimensions 570mms x 380mms)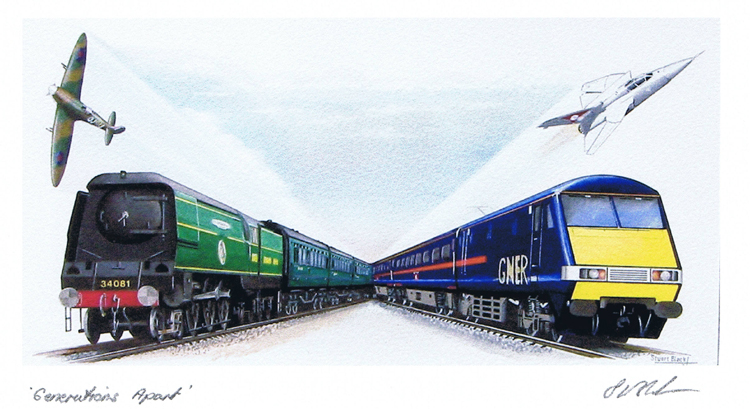 'Generations Apart' was commissioned for a first day stamp cover to mark the association of a Battle of Britain class locomotive with a Battle of Britain Spitfire aircraft. Fifty years of locomotive and aircraft development later are represented by the electric locomotive and Tornado jet figher on the right.
Occasionally other subjects are taken on ........ like this commission of HMS Belfast which is now available as a souvenir print.